Last week's attendees on Euromoney's Commodity Derivatives course were fortunate to watch an exciting closing trading session for nickel, kindly facilitated by the London Metal Exchange.
The flurry of activity in the final moments of the ring, was instantaneously reflected in the prices visible on the electronic platform.  It was very satisfying reviewing the price chart the following morning, relating our on-hand viewing of the market to the price movement.
The LME visit is just one aspect of this comprehensive three-day course which covers the major commodity sectors and related derivatives techniques. The learning approach is practical, with several case studies and workshops offering opportunities to explore concepts at a deeper level.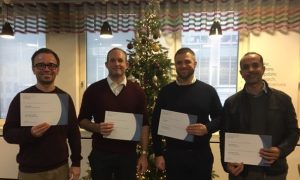 "Everything is useful and on a high level professional approach. Likes it big time and definitely will bring my colleagues next year." Sberbank
The course will run in London and Singapore during 2020:
London: 11-13 May 2020 and 17-19 November 2020
Singapore: 22-24 September 2020
Click here for more information and to register.