The first "Introduction to Loco London" course offered by  London Bullion Market Association ("LBMA") ran last week and feedback has been tremendous.
The attendees were an almost perfect cross-section of the bullion market.  Producers, refiners, central banks, bullion banks, vault operators, LPMCL members, physical traders, mints, investors and researchers were all represented.  Several contributed their own professional experience which added an extra dimension to the discussions.
"The course was really well delivered with a great facilitator who kept us all engaged throughout the day." Royal Canadian Mint
 "Clear, concise, easy to understand. Excellent use of time. Plenty of attention to answering questions. I thought the content was just the right blend on topics." Goldmoney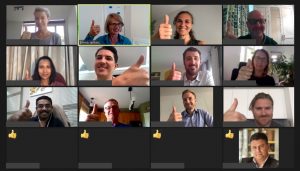 "The level of engagement was spot on, not too much, not too little. Very well done and thank you for the unique experience." ICBC Standard
"The trainer spoke clearly and it was easy for a non-native English speaker to understand" Paloma Precious
Detailed comments from this first group have been acted upon already and the next course should be even closer to that elusive perfect 10.
Check out Upcoming Courses for links to find out more and to reserve your place.  Note that September has almost sold out already, and dates for New York and London timezones are both offered in November.